Frequency Partners Will Be at Tiki Lee's Shootout on the River With "Good Morning Sunshine"!
I am super excited to co-host a meet-and-greet aboard "Good Morning Sunshine" at Tiki Lee's Shootout on the River, July 9-11, 2021. "Good Morning Sunshine" is a beautiful 29-foot Sea Ray owned by my friend and "partner-in-crime" Connie Stancill Rhodes.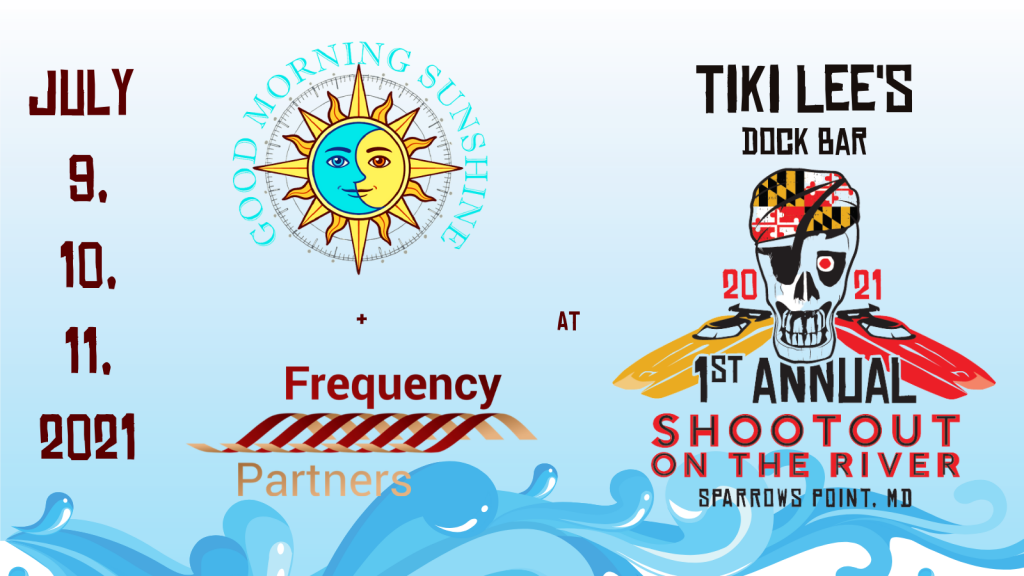 We are also sponsoring one of the performance boats, a red, white, and blue Azimut owned by Cynthia Morgan, Connie's longtime friend.
Connie and Cynthia both are boaters who want to empower women through their stories of loss and heartache. Both were married to men who always drove the family boats. Either through divorce or death, they were both left without the know-how to boat on their own. So they had to figure it out on their own. Connie is taking the lessons she learned and sharing it with other women, giving them the knowledge and know-how to become confident boat owners, captains of their own destinies, as it were.
If you know anything about boats, it's a male-dominated industry, or at least the captain's hat is usually worn by the male. Thank goodness for women like Connie — and Captain Sandy of "Below Deck" — for driving a stake through the heart of the stereotype that women can't be in charge.
But as is well-known, a female entering a male-dominated industry and trying to learn from men can experience all kinds of power-struggles and intimidation. It's not true everywhere, and it's getting better as more women move into STEM studies, but it happens, and boating, in particular, is seemingly behind other industries when it comes to improving this imbalance.
Connie is committed to making sure that women feel like they can learn in a positive environment while also truly "mastering" (interesting word) the challenges of operating a vessel. Owning or operating a boat is no joke. The high seas never occur in a virtual classroom! Being out on the water is the real deal and preparation is key. Women need great training and hands-on experience to truly feel self-reliant.
I got in on the sponsorship not only because Connie is such an inspiration to me but also because this event is being hosted at Tiki Lee's, which is located in Sparrow's Point on the Back River, which is the backdoor of the Chesapeake Gateway, where I live and work.
As a business owner and the marketing committee chairwoman for the Chesapeake Gateway Chamber of Commerce, it is important to me to see the region's businesses, reputation, and pride grow. As someone who didn't know that this slice of Baltimore even existed before I lived here, I can say that it is one of the most underrated (and one of the most underserved) areas of the county and that has to stop now. The people who are responsible for making it stop and giving this region the credit it deserves are the locals, of which I am happy to count as one.
As a marketing strategist with a business coach twist to my operations, I want to show business owners all the tools and know-how they need to grow their revenue and profits. Just as Connie wants women to know how to drive their own boats, I want business owners to feel that they are not just "treading water" but are actually creating a future for themselves and serving their clients and community.
But as a naturally introverted person (believe it or not), I prefer to meet business owners in non-business settings to get aquainted and familiar with me. As we all know, the best person to work with is someone you know, like, and trust. And while I can discover multiple avenues in companies to clean up inefficiencies, implement effective marketing strategies that make them second-to-none, and build profits, these are often highly personal discussions. I don't mind saying that the Shootout On the River is a great way to build this trust bond in a relaxing setting.
And then there's that being part of an all-female team. "Huzzah," or something like that.
So it's going to be a FUN weekend on the water and I'm delighted to sponsor Cynthia in the race and work with Connie aboard "Good Morning Sunshine"! Tiki Lee's Shootout on the River is the first performance boat race of its kind on the Back River. Big money prizes, lots of rubbing elbows with performance boat owners and regional and national business leaders, and a taste of the great outdoors.
This is a long-awaited opportunity for the region to show off its fantastic waterways and business community. Low-pressure, high-energy fun! Doesn't hurt that the event comes with live bands and airshows all weekend.
We'll be aboard "Good Morning Sunshine" on Tiki Lee's pier all day on Friday, Saturday, and Sunday July 9-11. Our performance boat will be docking next to us or nearby.
Want to join us by land or by sea? Drop a line, so to speak, and let me know you're coming. We'll have plenty of surprises for our guests throughout the weekend.